America
04.11.2019
Paradisus by Meliá in Mexico: beaches, turtles, golf and conferences in Los Cabos

Paradisus by Meliá offers the most luxurious all-inclusive resort experience in the world from a host of properties spanning Mexico and the Dominican Republic. Mindful of its presence within nature, Paradisus is committed to achieving balance with the environment around its properties and inspirational culture nearby.
The luxury brand includes resorts such as Paradisus Palma Real, The Grand Reserve at Paradisus Palma Real and Paradisus Punta Cana (Dominican Republic), Paradisus Cancun, Paradisus Playa del Carmen's La Perla, Paradisus Playa del Carmen La Esmeralda and Paradisus Los Cabos (Mexico) with future plans to open Paradisus Playa Mujeres in Mexico in 2020.
Paradisus Los Cabos, Mexico
Paradisus Los Cabos is the newest addition to the Paradisus by Meliá collection in Mexico as the brand's fourth resort in the country and recently added member of The Leading Hotels. Sitting alongside a stunning beach with amazing views of the Sea of Cortés, Paradisus Los Cabos is an all-inclusive resort. The resort sits on 14.5 acres of land with one of the only swimmable beaches in the Cabo corridor surrounded by tropical gardens, a neighboring private golf course (Cabo Real Golf Course) and picturesque mountains.
Just 25 minutes from San Jose del Cabo International Airport, Paradisus Los Cabos is also home to one of the largest Convention Centers in the area, which debuted in spring 2017 with over 13,500 square feet of meeting space.
The luxury all-inclusive resort features 350 guestrooms including 98 Royal Service Suites, 30 Family Concierge Suites, and 28 Royal Service Swim-up Suites.
Royal Service Swim Up Suites are the epitome of luxury. With a minimalist yet hugely attractive interior design, these Suites provide direct access to private swimming pool as well as hydro massage bathtub, amenities by Thierry Mugler, ultra-comfortable king-size bed and a sofa, satellite channels and Nespresso coffee machine. Guestrooms and suites at Paradisus Los Cabos include fully stocked mini bar, laptop size safe, 50" flat screen TV, balcony or terrace.
Sophisticated, luxurious and elegant, all suites provide ultimate comfort and a chic atmosphere with unbeatable views of the sea.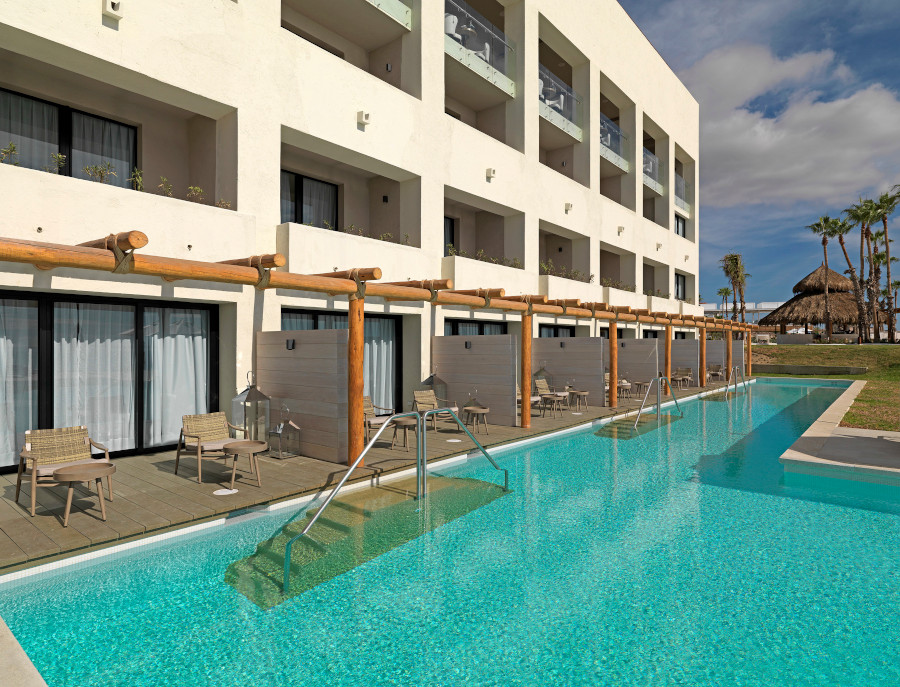 Royal Service Swim Up Suites
Royal Service at Paradisus Los Cabos is an unparalleled, all-encompassing experience only for adults. VIP service is designed to create the most memorable vacations discerning and experienced travelers.
Families who stay in Family Concierge rooms and suites can also enjoy exceptional facilities.
In line with the brand's nature-centric outlook, Paradisus Los Cabos offers a special program for guests, designed to protect the endangered wildlife native to the Los Cabos region, most notably the Least Tern bird and local Leatherhead, Black and Olive Ridley sea turtles.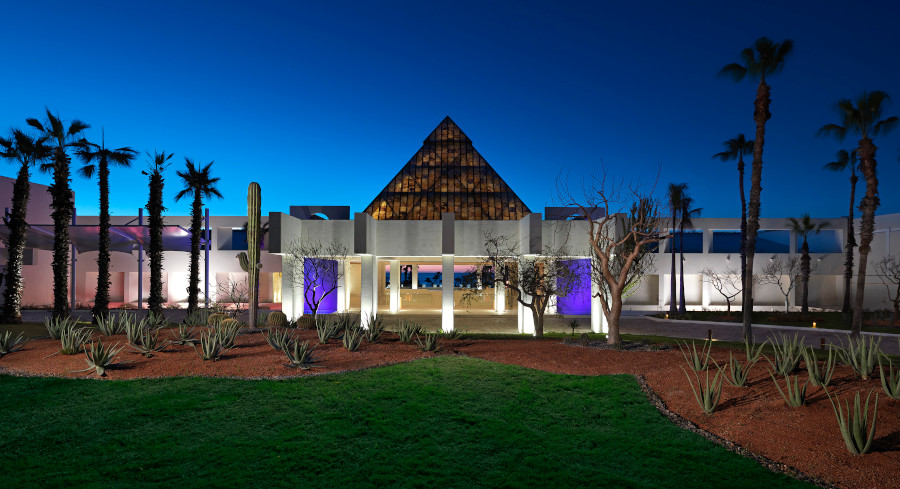 Paradisus Los Cabos, Mexico
Paradisus Los Cabos offers unforgettable culinary experiences. Michelin rated Chef Martin Berasategui and his restaurant, Gastro bar, sets the bar for culinary excellence. But with seven restaurants and seven bars, that is just the beginning. A delicious and nourishing array of culinary options for everyone from the foodie seeking the latest epicurean delights to the comfort food lover and the most health-conscious between them. Thanks to the 24-hour Room Service and a bevy of restaurants, guests have options for every hour of the day and, once they see all, they just might want to check in.
Looking for be pleasing to all the guests, this luxurious all-inclusive resort offers a wide variety of activities for all ages. Any guest can enjoy several options including sushi workshops, tequila tastings and much more.

MELIA PRO
Travel agencies can now use a great booking tool on meliapro.com to make bookings for up to 9 rooms in over 375 hotels in 43 countries with up to 20% commission in selected resorts.
ngs can be made at net rates or commissionable rates, with commission paid automatically immediately after the guests' departure through HotelPaycom (available in around 140 hotels). If travel agents require 10 rooms or more, an offer will be prepared by our Group Desk for 5 different hotels within 24 hours. Meliapro.com is translated into 8 languages and is highly agent-friendly. Travel agents can become professional Meliá experts by obtaining Meliá PRO certification and also get an extra 100 MeliáRewards points. Agents also get rates with up to 20% discount for their own private travel and receive points for individual and group bookings (two points for every euro) which they can then use for their own stays, gift vouchers or discounts in hotels and with over 40 MeliáRewards partners.