Analytics
21.06.2023
The Islamic Republic of Iran as a promising destination for Russian travelers

Sheikh Lotfollah Mosque, visitiran.ir
Since 2022 Russia and Iran are getting as close as never before. Terra incognita is opening to the Russian guests. Russian Travel Digest presents an overview of Iran facilities with the focus on the Russian travel market.
The Islamic Republic of Iran (known as Persia until 1935) has the fourth largest GDP economy in the Islamic world and the second largest in Western Asia (after Turkey). Iran is located in a strategically important region of Eurasia and has large original oil and gas in place. From the north it is washed by the Caspian Sea, from the south by Persian and Oman Gulfs.
Iran's tourism industry was heavily affected by the Iran-Iraq war, but it is now rapidly recovering. If in 2003 only 300,000 tourist visas were issued, mainly to pilgrims from neighboring countries, in 2004 Iran was visited by 1.7 million foreign tourists. According to the government's Tourism Development Plan 2025, Iran plans to increase the number of tourists from 4.8 million in 2014 up to 20 million in 2025.
1.8% of the population is busy in tourism. According to the forecasts, this sector of the economy is one of the most promising in the country; in the coming years, it is expected to grow by 10%. 2022 the total number of inbound tourists was about 4.3 million and outbound 9.9 million.
According to The Ministry of Cultural Heritage, Tourism and Handicrafts of Iran the travel industry in the country was growing before the coronavirus outbreak, reaching $11.7 billion in revenue in 2019, representing 2.8% of GDP, approaching the average share of tourism in global GDP, which was 3.2%.
Iran has ranked by WTO the second fastest growing country in tourism.

Naqsh-e Rostam. visitiran.ir
According to UNESCO, after Egypt and Italy, Iran is in 3rd place in terms of the number of historical monuments (26 of them are included in the UNESCO World Heritage List). The very first civilizations originated in these places, and the ruins of Persepolis, Elam, desert adobe cities, royal necropolises and other architectural marvels.
That is why the main flow of tourists falls on historical sites in Isfahan, Shiraz, Yazd. But at the same time, there are huge opportunities for active tourism in Iran: trekking, mountaineering, skiing, diving in Persian Gulf, cycling tours, jeep safaris in the desert, eco-tours in Iranian reserves. Rural tourism programs and tours to nomadic tribes are no less interesting - this is a unique opportunity to see a different way of life with. Medical segment attracts tourists from Arab countries and the CIS, since medicine in Iran is at a good level and rather affordable.
Beach holidays are not so popular by the tourists, because Iran is a Muslim country with rather strict rules. Leaving the plane, women should be covered with a headscarf and wear in any public areas. Women are required to swim in clothes on public beaches; swimming in a swimsuit is allowed only on a special women's beach.

Kish Recreational Pier, visitiran.ir
The most famous resort in Iran is Kish Island, which is a free economic zone. Here the guests can do not only beach and water activities (diving, fly boarding), but also arrange shopping, visit dolphinarium, aquarium and water park. History fans will be interested in the ruins of the ancient settlement of Harir and the ruins of the old Portuguese fortress of the 15th century. Nature lovers can visit the wild life area with mangrove forests and the geopark with its Mars surface landscapes. The neighboring islands of Qeshm and Hormuz are also suitable for a beach holiday.
Iran has a well-developed infrastructure, transport and good hotels. However, there is some lack of accommodation in the main tourist cities (Isfahan, Shiraz, Yazd).
The high season here is in April and May, as well as in September and October.
When going to Iran tourists need manly cash, best of all, new-style dollars, since Visa and MasterCard do not work here due to the long year sanctions. However, this is not new for the Russian tourists.
There is a stereotype that Iran is not safe. Apparently, this is due to the unstable situation with neighbors in the Middle East. However, experts say that this is not the case. Everything has been calm in Iran since the end of the Iran-Iraq war of 1980-88, and many tourists who have already visited Iran can confirm this. Moreover, many residents of large European cities say that they feel safer in Iran than at home. The crime rate in the country is very low, so travelers should not worry.
Iran is a visa country. By mutual agreement, under international rules and regulations, citizens of certain countries are exempt from applying for a visa to enter Iran. Among them are citizens of the Republic of Azerbaijan, Bolivia, Turkey, Syria, Lebanon, Georgia, Armenia, Venezuela, Egypt, Malaysia and China. A visa is issued on a separate sheet of paper and a stamp is not affixed in the passport upon entry and exit. Kish Island, is a visa free area, which has its own international airport. The visa-free regime applies only to the island itself. No excursions to the cities of the country and even trips to the neighboring islands of Qeshm or Hormuz can be made. There are no direct flights from Russia to Kish. In order to get there without a visa tourists have to take an interconnection flight, e.g. via Dubai.

Imam Reza Holy Shrine, visitiran.ir
As it was expected, Russia and Iran would mutually cancel visas for tourist groups in 2023. In particular, the visa free condition will apply for the groups of Russian tourists from five to 50 people who are going to stay in Iran for not longer than 15 days. The corresponding agreement was signed between Tehran and Moscow within the second meeting of the Iranian-Russian Technical Committee for Tourism. However, to date, Russian tour operators still have no information about the start of visa-free group trips. "Neither the visa department of the Iranian Foreign Ministry, nor the Tehran International Airport have information about the start of visa-free entry for group tourists from Russia," Ms. Anna Filatovskaya, director of the advertising and PR department of the Russian Express tour operator, notes, referring to Iranian partners. There is no information about it from other tour operators. Meanwhile, a visa-free regime could have a beneficial positive effect on the tourist industry in both countries.
Major Russian tour operators (Biblio Globus, Intourist, Russian Express, Pac Group, Biblio Globus, FUN&SUN, Art Tour, Space Travel) actively offer holidays in Iran. These are, as a rule, only sightseeing tours from 3 to 8 nights. Also, a number of Iranian travel companies have their own websites in Russian, offering tours to Iran.
Direct flights to Tehran are carried out by Russian airlines Aeroflot, Nordwind and Iranian Mahan Air. Tehran can also be reached via Dubai or Istanbul (Turkish Airlines, Flydubai, Emirates). It should be noted that under the sanctions, Russia and Iran agreed to cooperate in the aviation sector and increase the number of flights between the countries. The agreements were reached during a meeting between the Deputy Minister of Transport of Russia and the head of the Civil Aviation Organization of Iran, Mohammad Mohammadi-Bakhsh. Moreover, in June Iran signed an agreement with Russia on mutual cooperation in the field of tourism.
Iran is the travel destination, which can easily impress the travelers. Demand is slowed down by the lack of information about Iran's tourism opportunities.
Russian tour operators still see some opportunity in Iran as a relatively new travel destination. According to Mr. Artur Muradyan, general director of the tour operator Space Travel, it is too early to talk about a significant tourist flow to Iran. The country is not well known among the Russian tourists. However, the still limited choice of foreign travel destinations for Russian clients can currently help it attract Russian travelers.
These circumstances make Iran a rather difficult destination for tour operators, so that the number of travel companies, which organize tours to Iran is very limited.
According to the experts of Russian tour operator Intourist, excursion tours to Iran will be of interest to experienced travelers, who are looking for something new and unusual, as well as those who are interested in history and religion. According to representatives of the tour operator, despite its closeness and observance of national traditions, Iran is a very hospitable country.
Iranian tourism experts also assess the Russian market as a very promising, although the main flow comes to Iran from Western Europe, Arab countries, China, Japan. Iran is ready to offer Russian tourists an interesting combined product. "In order to show not only classical Iran, we have formed a full-fledged tourism product, combining not only sightseeing (architectural monuments, some of which are 6,000 years old), but also gastronomic and eco-tourism," notes Amir Mehpurian, Senior Destination Manager at Mahan Air.
Representatives of both sides agree that Iran needs more active promotion in Russia. Much attention should be paid to the formation of the correct image of the country and informing about the real life and rules for tourists in Iran. Now many tourists are repelled primarily by widespread stereotypes about the "hardness" of local rules. At the same time, the restrictions (the most important are the Islamic dress code and the alcohol ban) are not at all cruel. Iran is quite a secular state in everyday life and restrictions appearing during sightseeing and active tours do not cause any discomfort for tourists who are interested in oriental exoticism and eco-holidays.
According to the Federal State Statistics Service of the Russian Federation, a surge in visits by Russian tourists to Iran was observed in 2018, when 9,000 people visited Iran. The Ministry of Cultural Heritage Tourism and Handycrafts reports about over 41 000 tourists from Russia and about 1 000 000 from CIS in 2022. Russia is one of the target destination for Iran.
National stand was for the first time presented at MITT in Moscow March 2023.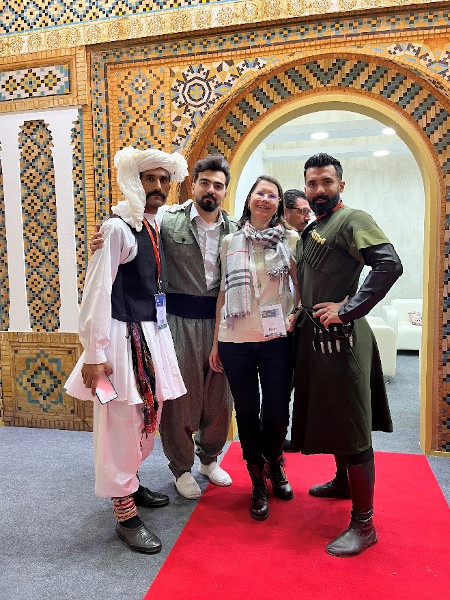 Photo by Russian Travel Digest
At the state level, tourism is handled by the Ministry of Cultural Heritage Tourism and Handycrafts of Iran. It is responsible for the creation, development and operation of tourism facilities in the country, planning the renovation or expansion of tourism facilities through direct investment or lending to the private sector or entering into partnerships with the private sector, issuing licenses and supervising the establishment and administration of hotels, restaurants and tourism companies, as well as the qualifications and ratings of these units. 6567 travel agencies are working under supervision of the Ministry of Cultural Heritage, Tourism and Handicrafts.
The Ministry has an official website www.visitiran.ir with the sights of the country, tourist routes, activities and events, as well as useful information about the country, its climate, currency, dress code etc. The webpage is translated in six languages, including Russian.
According to Leila Ajdari, Director General for Marketing & International Tourism Development, the Islamic Republic of Iran is developing the tourism industry, strengthening and expanding tourism relations with other countries.