Promotion
11 February 2019
The Best Dining in Moscow close to ExpoCenter
Nice places to eat and drink after MITT travel fair
There are a lot of nice restaurants in Moscow and a wide variety of different cuisines. Russian Travel Digest has chosen some really, really good restaurants that are worth visiting and are not far from ExpoCenter. It will take you 10-30 minutes to start your dinner after long day at MITT travel fair. All these restaurants have English-speaking employees.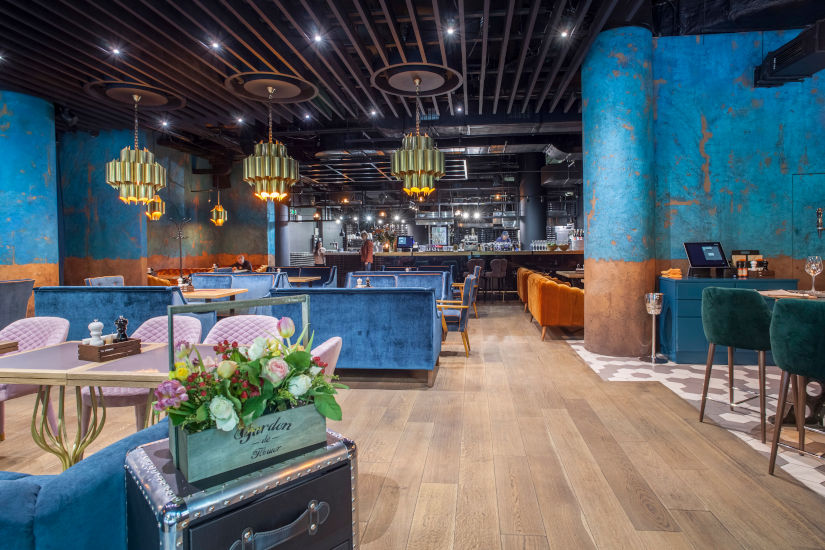 STEAK IT EASY
Distance from ExpoCenter: 1,1 km, about 7 minutes by taxi or 10 minutes by walk
http://steakiteasy.ru
+7 (495) 544-53-77
Moscow, Presnenskaya nab, D2, TC AFIMOL, 5-th floor.
This is an extremely affordable, trendy and astonishing bar-restaurant. The executive chefs are Australian Sabby Canon and Anton Kovalkov. The main focus is on wine, steaks and burgers.
Steak It Easy is a story about wine. Each restaurant is equipped with tables ... with wine taps. And not a simple wine is pouring out of these taps, but a good Spanish for a ridiculous 100 Rubles per 100 ml.
What To Order:
- Burger with caramelised onions and jalapenos - 640 Rubles (8,46 Euros);
- Steak salad with green mix and fresh horseradish – 730 Rubles (9,65 Euros);
Thai style soup with shrimp and smoked squid - 650 Rubles (8,59 Euros).
Average Check Per Person: 700 - 1500 Rubles (9,25 - 19,83 Euros).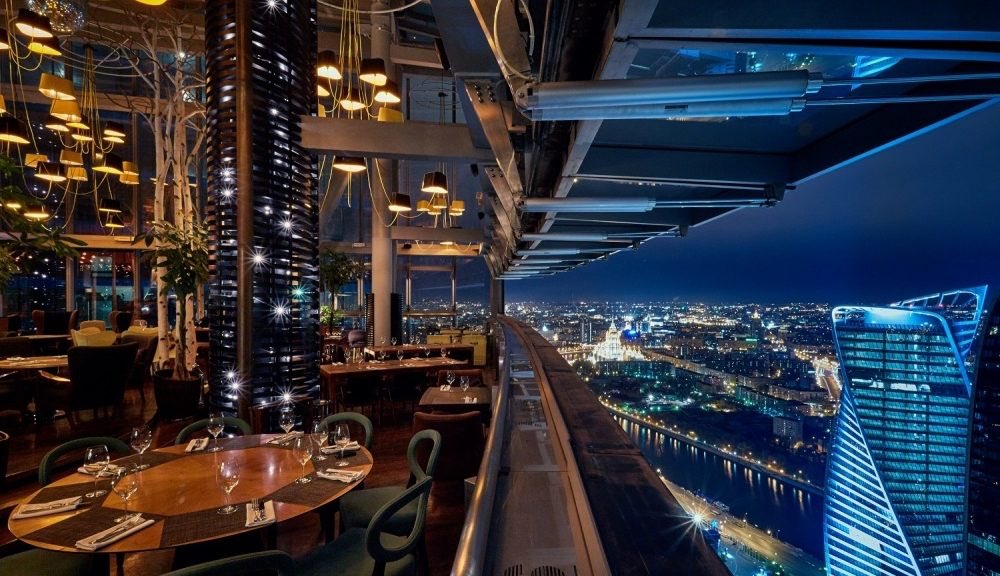 SIXTY
Distance from ExpoCenter: 1,4 km, about 8 minutes by taxi
https://ginza.ru/msk/restaurant/Sixty
+7 (495) 653 83 69.
Moscow, Presnenskaya nab., 12 Federation Tower, the 60-th floor.
Restaurant Sixty is unique, first of all, by its location: the view from the 62-nd floor of the Federation Tower is breathtaking for everyone. Sixty is one of the highest restaurants in Europe. It is pleasant to admire the sunrises and sunsets, to see clouds under your feet and watch the birds hover. The restaurant has a unique system, which allows opening windows on a height of 62 floors – there are no analogues anywhere in the world.
What to Order:
- Terrine of foie gras with dates and ginger puree - 1750 Rubles (23,10 Euros);
- Salad a la Russe - 650 Rubles (8,6 Euros);
- Mushroom consomé - 650 Rubles (8,6 Euros);
- Tomato Soup Papa AL - 750 Rubles (9,9 Euros);
- Braised duck leg with grechotto and porcini - 1500 Rubles (19,8 Euros);
- Prime beef with potato and sun-dried tomatoes - 2750 Rubles (36,3 Euros).
Average Check Per Person: 3500 Rubles (46,2 Euros).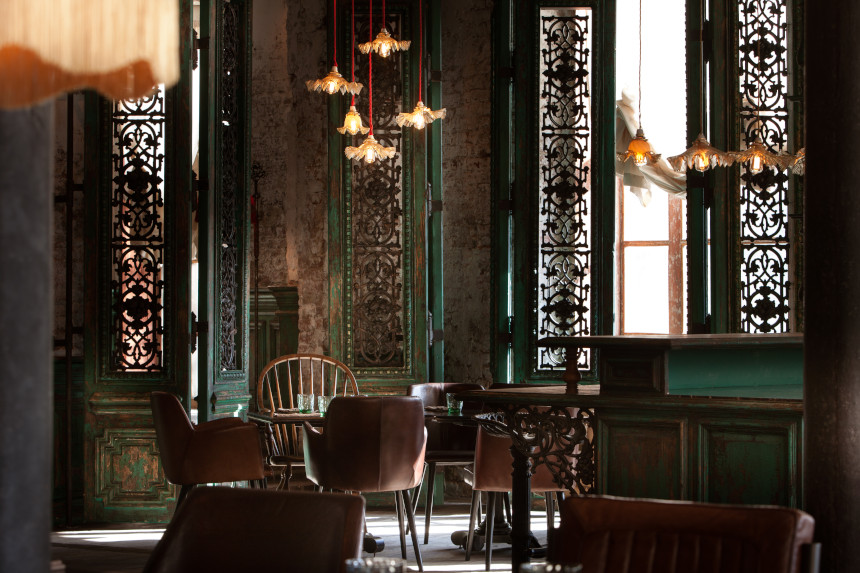 KAZBEK
Distance from ExpoCenter: 1,7 km, about 10 minutes by taxi
https://www.mykazbek.ru/en/
+7 (495) 651-81-00
Moscow, Year 1905 street, 2
Restaurant of authentic Georgian cuisine Kazbek is an atmospheric Georgian flat. Plenty of daylight, skillfully distressed walls, carved wooden screens, textured floors, but the main thing is a huge real wood-stove built in a luxurious buffet to bake khachapuri and bread, and the windows looking out onto the restaurant kitchen, where everything is directed by the young blue-eyed Chef from Tbilisi Mamiya Jojua and his mother.
What to Order:
1) Khinkali with sturgeon and salmon (4 pieces) - 810 rub (10,70 Euros);
2) Georgian vegetable salad with walnuts (tomatoes, cucumbers, green chili pepper, fresh herbs, walnut) – 740 Rubles (9,78 Euros);
3) Soup Kharcho - 520 Rubles (6,87 Euros);
4) Khachapuri - any is good: Adzharian - 610 Rubles (8,06 Euros); Megrelian (690 Rubles (9,12 Euros); Imeretian (690 Rubles (9,12 Euros); with black truffle and Rachinskaya ham -1360 Rubles (17,98 Euros);
5) Desserts: Napoleon cake - 590 Rubles (7,80 Euros); Shu with custard - 550 Rubles (7,27 Euros);
Average Check per Person: 1500 -2000 Rubles (19,83 – 26,44 Euros)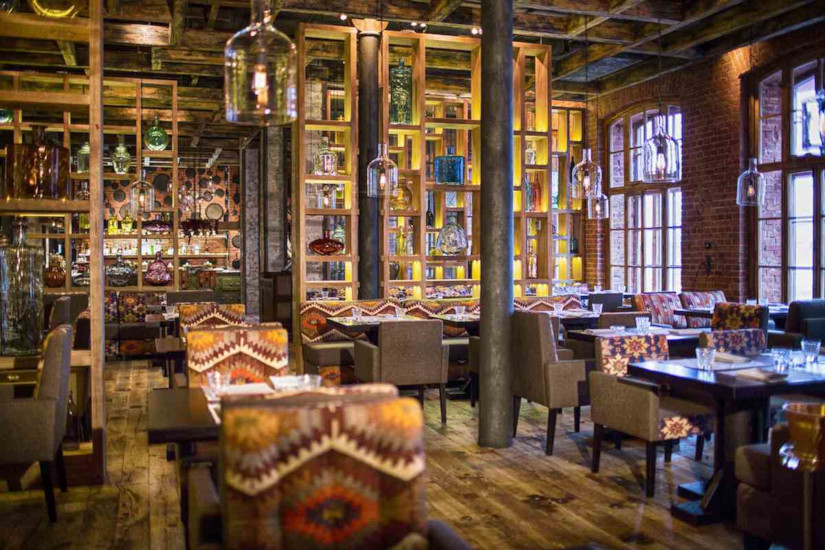 SHINOK
Distance from ExpoCenter: 1,7 km, about 10 minutes by taxi
https://shinok.ru
+7 (495) 651-81-01
Moscow, Year 1905 street, 2
The cosy and welcoming Shinok restaurant, located in Year 1905 Street in Moscow, was opened in 1997 by Andrey Dellos – and immediately became one of the Russian capital`s most popular fine dining venues. The famous aspect all visitors remember about Shinok are the interiors – an eco-loft based around Slavic motifs, in which there is a glassed-off atrium with peacocks, a cow, and various other barnyard animals. The true highlight of the restaurant is its sumptuous Ukrainian cuisine, specially prepared by the Chef Elena Nikiforova. The authentic flavours of the food are achieved by sourcing all of the ingredients from farm produce – Shinok`s menu could act as a geographic guide to Russia`s best farms – and are set off by the elegant, contemporary presentation. Shinok`s location across the road from the ExpoCentre and International Trade Centre makes it the perfect choice for MITT attendees.
Try the hits of the Ukrainian cuisine:
- Russian Salad Olivier (traditional salad which boiled potatoes, carrots, eggs, fresh and pickled cucumbers, green peas, baked chicken fillet served with homemade mayonnaise and decorated with a slice of beef tongue, quail eggs and red caviar - 680 Rubles (9 Euros);
- Ukrainian Borsch - here it is called "drug" - 660 Rubles (8,72 Euros);
- Forshmak (atlantic herring, green Apple, egg, whole grain bread) – 620 Rubles (8,20 Euros);
- Lard platter (5 types of lard) – 950 Rubles (12,56 Euros);
- Dumplings with potatoes and mushrooms (stuffed with crushed new potatoes, mushrooms and onions) - 590 Rubles (7,5 Euros);
- Kiev cake - 590 Rubles (7,80 Euros).
Average Check Per Person: 2500 — 3000 Rubles (33 — 40 Euros).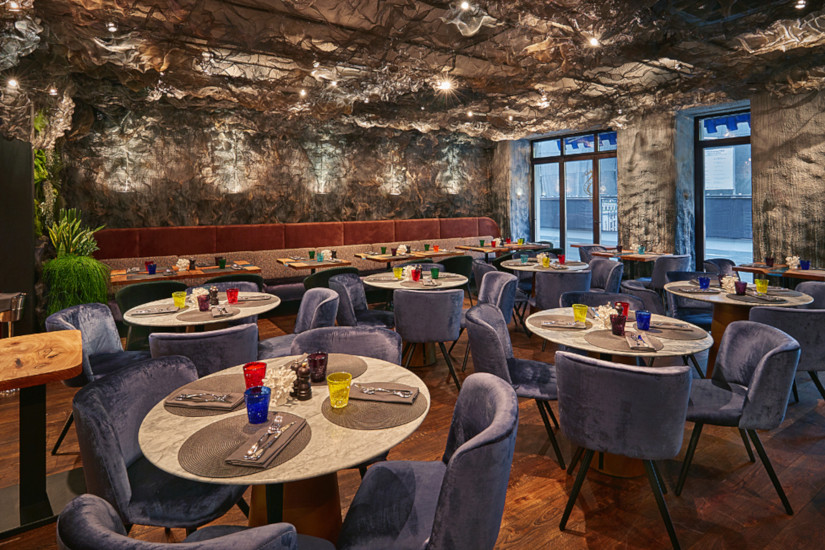 HUMANS SEAFOOD BAR
Distance from ExpoCenter: 6 км, about 30 minutes by taxi
http://humansseafoodbar.com/menu_en.html
+7 (495) 665-73-43
Moscow, Malaya Bronnaya, 10 str.1
Seafood restaurant Humans was opened in the most fashionable area of the capital city and opened the doors to visitors to the world of gastronomic, aesthetic and transcendental pleasure. Entering Humans is like raising a sea wave and diving into the underwater kingdom. Sea animals are at arm's length, and the mysterious atmosphere of the bosom of the sea inspires to conquer new gourmet horizons.
The main thing in Humans is Russian and foreign wild fish and seafood dishes (crabs, lobsters, squids, scallops, etc.), which from the category of expensive delicacies for holidays were transferred here into affordable luxury for every day.
Be sure to pay attention to the wild Sakhalin scallop with ginger dressing, salad with eel and spicy sauce, fish soup with sterlet and spaghetti "frutti di mare". You can try fresh sashimi, crudo, tartars and ceviche at the 3-meter oyster bar. Mollusks, cram or lobster will be taken from the aquarium, baramundi, porgy, sea robin or turbot will be get from the icy show case and put to a grill or oven.
What to Order:
1) Oysters: cucumber, lemon & red caviar – 320 Rubles (4,23 Euros);
2) Salmon, Tuna, Shrimp – 450 Rubles (5,95 Euros);
3) Sakhalin Scallop – 750 Rubles (9,92 Euros);
4) Sea Bass Crudo (sea bass fillet, flower salt, tomatoes, Crimean onion, cilantro) – 1800 Rubles (23,79 Euros);
5) Baked Snails (dairy butter, almonds, freshly squeezed lemon juice, worcestershire sauce, baguette) – 540 Rubles (7,15 Euros).
Average Check Per Person: 2 000 Rubles (26,44 Euros)